With global security issues proliferating and our environment under more stress than ever, taking action has never been more urgent. We worked with the Stockholm International Peace Research Institute to create an identity and outputs to put their flagship initiative on the global agenda.
International security and environmental degradation combine in dangerous ways, creating risks we are only beginning to understand. SIPRI's Environment of Peace project explores how these twin crises interact and offers guiding principles for navigating this new era together with recommendations for action.
Ahead of a launch at the 2022 Stockholm Forum on Peace and Development – 50 years after the landmark Stockholm Conference first shone light on the link between the environment and human wellbeing – SIPRI asked us to create an identity and set of outputs to help the initiative land with impact.
Working alongside the project team and panel of experts, we started by getting to grips with the iniative's key themes, audiences and ambitions. Together, we seized upon 'balance' as a central idea: a direction that reflects the fragile relationship between security and environmental crisis. This became the foundation for everything that followed.
We needed to create an identity that felt rigorous, realistic and relevant. We introduced a circular graphic device that encapsulates the concept of balance in an immediate way. This sits alongside bold lines that draw connections and speak to the role of the initiative in providing practical pathways to action.
The campaign visuals centred around a set of collages that capture the complexity and nuance of the subject matter better than photography alone ever could. They also introduce a much-needed human element to the identity to showcase the project's focus on both people and planet.
Alongside the identity, we created a framework for how to communicate the initiative. Outlining suggested outputs, tactics and timings, the objective was to ensure the initiative garnered attention before, during, and beyond the launch at Stockholm 50+.
For a research institute like SIPRI, the team at Soapbox were exactly the right mixture of challenging, supportive and pragmatic

Claire McAllister, Project Lead – Environment of Peace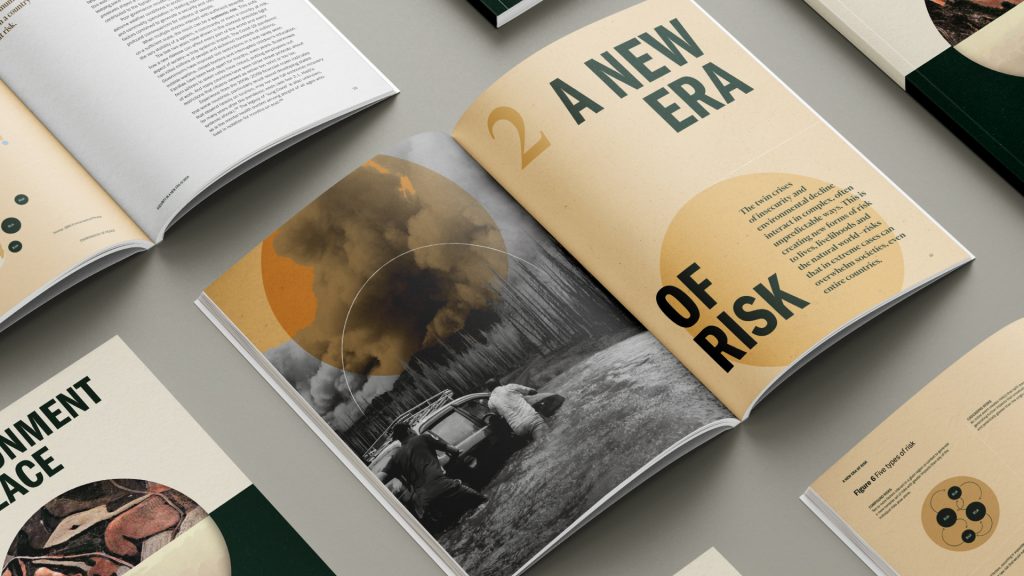 The initiative comes to life through a diverse range of outputs, all designed to work in harmony. A short animation serves as an introduction to the project. This is complemented by an accessible scrollytelling microsite that serves as a long-term hub. We also designed and oversaw the production of a bespoke printed report for event attendees who wanted to explore the findings in more detail.
The visual design and the accessible look means that we have reached far more people than we would have done without Soapbox

Claire McAllister, Project Lead – Environment of Peace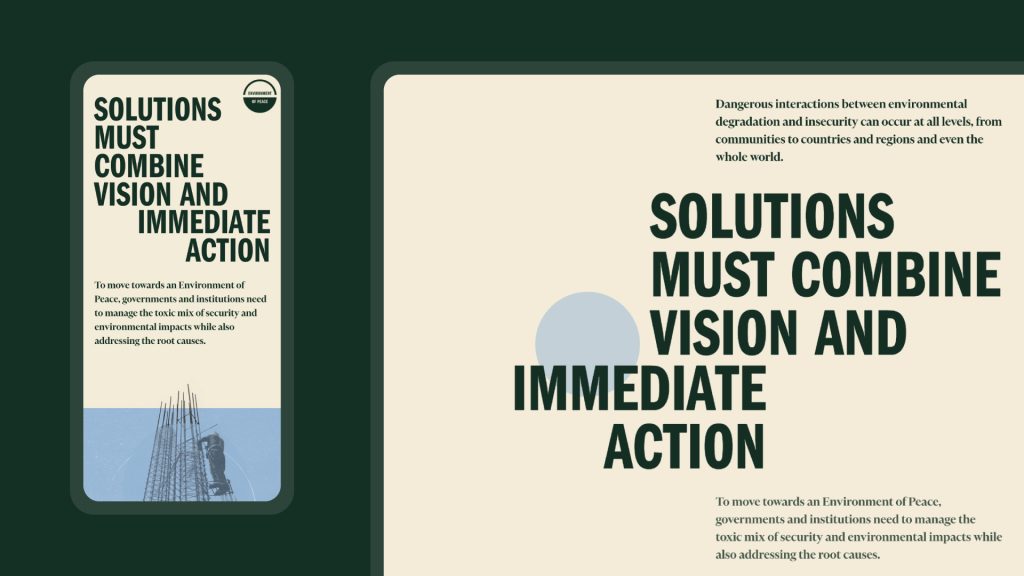 To date, the report has been downloaded over 7,500 times, with more than 4,500 people visiting the project website. Most importantly of all, the findings of the initiative are already being put into action by international organisations, governments and agencies; a vital step towards turning the tide and creating an environment of peace.